Available Puppies
Pups are coming in 2020!
Please email us to obtain a full Buyers Prospectus which will explain our breeding ethos, what your next steps should be and to arrange your interview.
---
INTERESTED?
EMAIL US: alcanceboxers@gmail.com
Please review the following information first &
include some information about yourself
(as per suggested question list towards bottom of this page).
The information you share with us is confidential & is essential to our placement process.
Our most recent litter from Novemner 2016 is featured below;
Please note all pups have been placed.

Dam - Alcance A Moment In Milan "DONATELLA" &
Sire - Elwoods Diesel Delivery to Oz (imp USA) "DIESEL"
bring together a MASS of strong European Working Champions to their offspring!
Many Thanks to Sam and Sina Castiglione of CASQUEEN BOXERS for allowing us to use Diesel.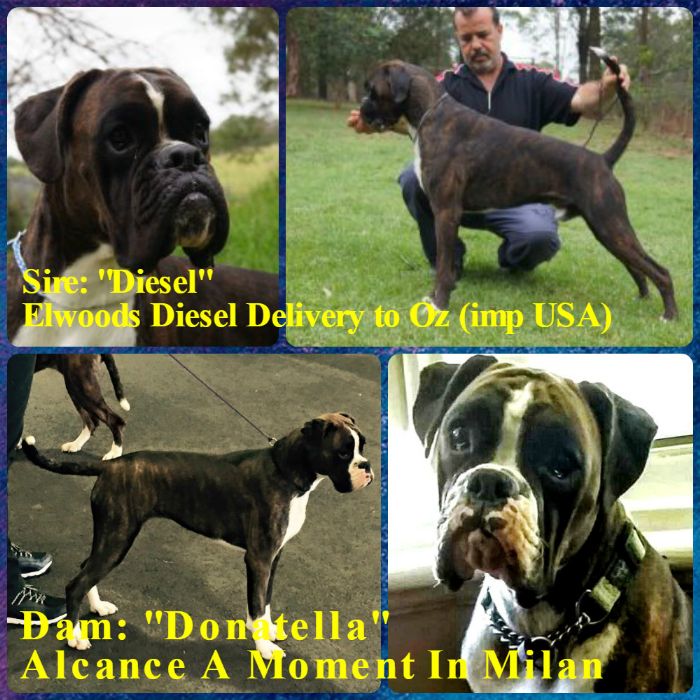 Brindle female 405890941 "KNOX" - We kept this little beauty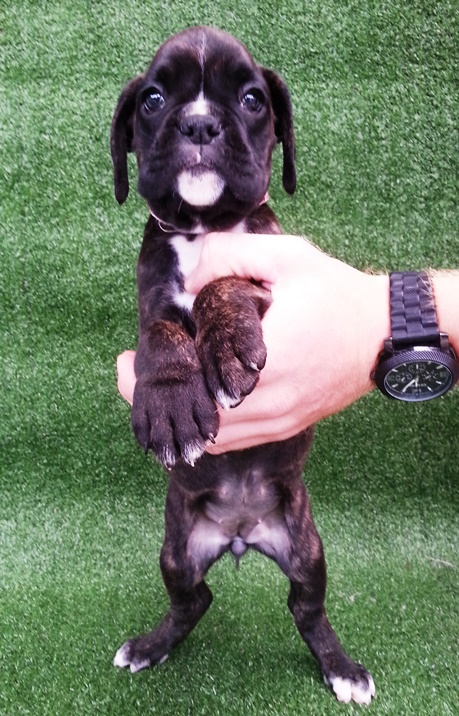 Brindle male 405884868 "Dr. DOOM" - SOLD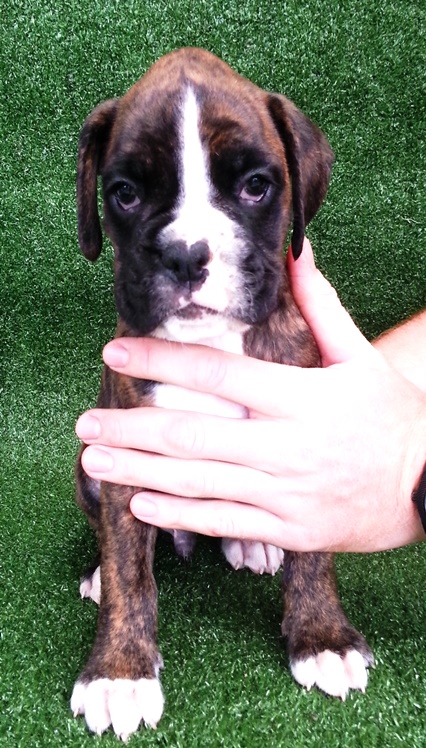 White male 405885023 "DIABLO" - SOLD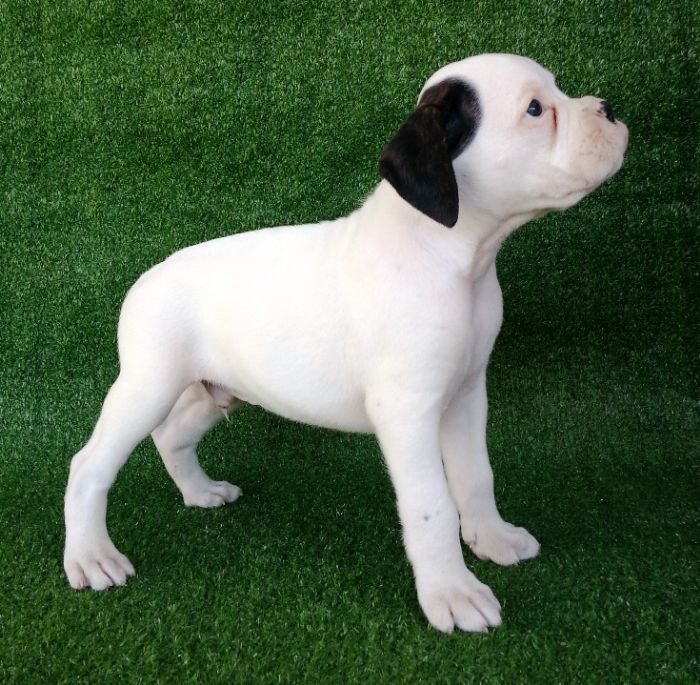 White male 405885551 "Mr. SINISTER" - SOLD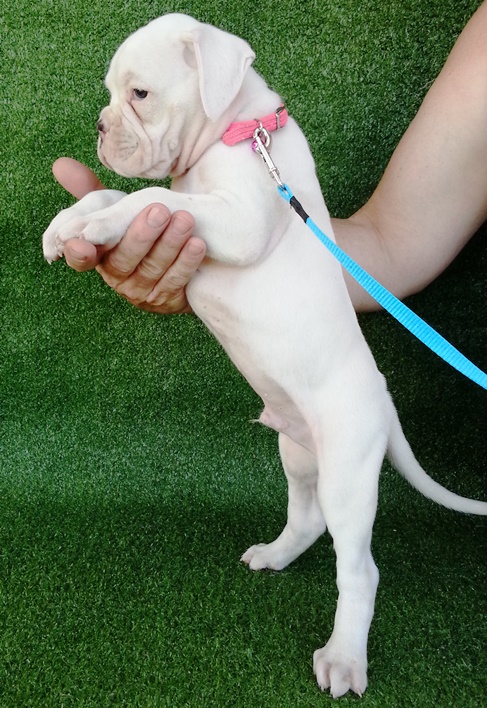 White male 405885352 "BANE" - SOLD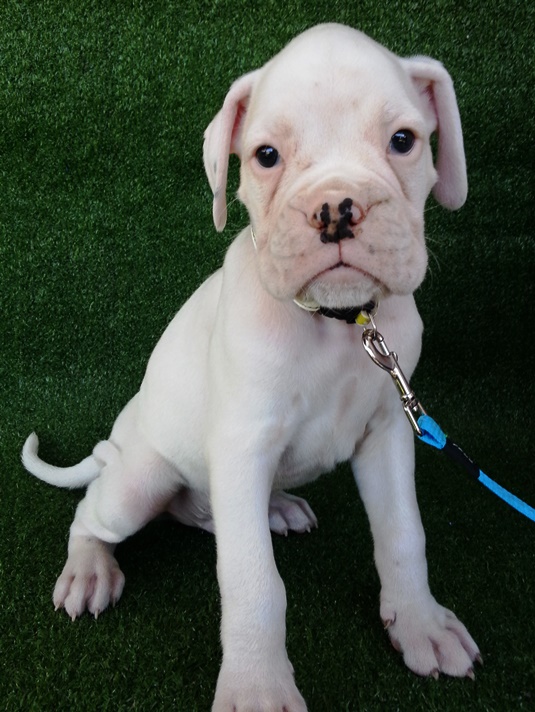 Brindle female 405885563 "BLACK CAT" - SOLD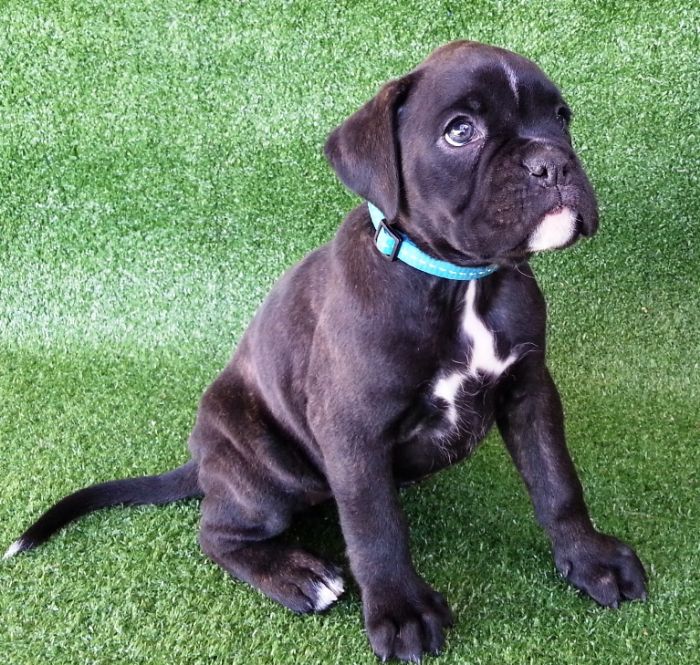 Brindle female 405885324 "NORMA" - TERMS APPLY - SOLD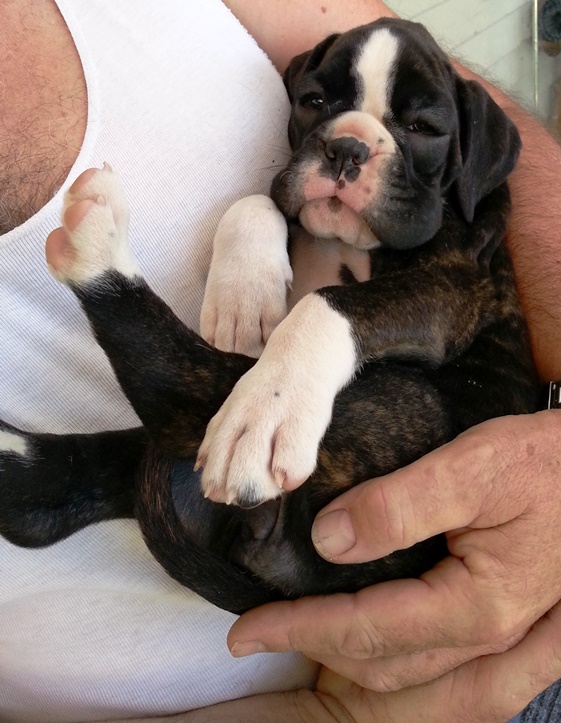 Brindle female 405891650 "ARCLIGHT" - SOLD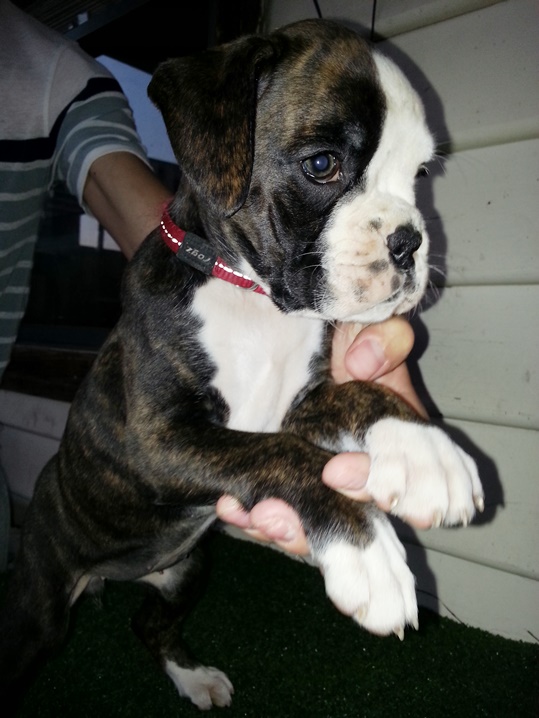 White female 405891382 "CALLISTO" - SOLD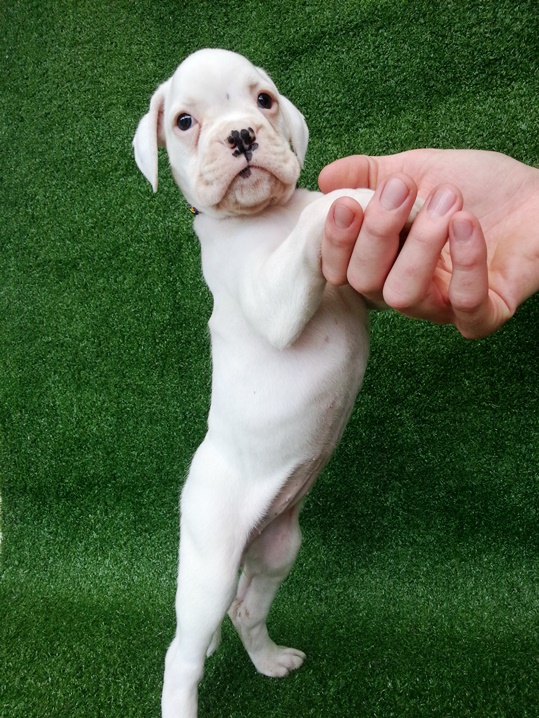 NO TYRE KICKERS PLEASE! We do not sell like a pet shop and will never make pressure placements. We take ultimate care to ensure our babies go to the best possible homes and that they are well suited to their new families. We're serious about our breeding, our boxers & what we look for in owners.
Be Assured that when own an ALCANCE boxer, you'll be very pleased with our 24/7 post purchase support & knowledge.
OUR HIGHEST PRIORITY WHEN PLACING PUPS is ensuring a quality boxer pup joins your family forever; This is our goal!

FULL INFO regarding Our breeding focus, Pup Prices, our comprehensive Health Testing program, Free 6 weeks Pet Insurance, our Sales Process & Guarantees are included in the "ALCANCE PUPPY PROSPECTUS" that you'll receive when you email us to express your serious interest in becoming an Alcance Alumni. Please see below info for main inclusions.
TRUST US - It'll be TOTAL BOXER LOVE AWESOMENESS!!!
ANKC Reg - 3100017108
---
MAIN INCLUSIONS
Alcance pups are ready to go home between 8 & 12 weeks of age. They are pre-socialised and will be the star of puppy pre-school too.
Included in our sales price are the following:
ANKC Pedigree
Vaccinations with certificate
Veterinary Health Certificate

Microchipped (of course!)
Fully wormed & Flea Free!
Full Puppy Socialisation Program (written & easy to follow)
Pet Health Insurance for first 6 weeks

Health Test Results for dam (& sire as available)
eg. 24 hr ECG Holter Monitor results, Genetic test results for Degenerative Mylopathy & ARVC, Thyroid panel (Full), Hip Score
Supply of the raw diet currently fed to puppy


(please note that we feed only Raw food & we feed it by hand to each dog)

Puppy's favourite Toy & Blanket - scented like home!

Through A Dog's Ear

- calming

Music CD helps pup transition into their new home

Membership to Dogs Victoria for 12 months


(includes The Monthly Club Magazine of canine news & activities in the state - Very Important!)
ALCANCE Puppy buyers (ALCANCE ALUMNI) are provided with the following:
Our Comprehensive Puppy Care, breed information, state governement Dog Ownership requirements & Canine Training Manual in an A4 binder

Dogs Victoria Purchase contract, outlining our health guarantees to you & your responsibilities to us

Ongoing Post Purchase Support (really handy when you have that niggling question at 9pm on a Sunday evening!)

Facebook membership to the Secret Littermates Page!
---
Interested in having an ALCANCE Boxer as part of your life? Great!
Want to express your interest in being owned by an ALCANCE Boxer? Excellent!
It is ESSENTIAL that you contact us (via email) at alcanceboxers@iprimus.com.au
Please include your full name, address & contact telephone number
We'd love to know more about you. Feel free to include your answers to the following in your contact email, or come prepared to discuss these topics when you visit the Alcanceboxerdom:
What interests you about the boxer breed?

What would an ALCANCE Boxer find interesting about you?

When are you hoping to start sharing your life with a Boxer?

What state and town do you live in?

Do you live in a house or unit? Small yards aren't normally an issue, but we do need to know how you plan to manage a growing pup in these circumstances

How many members are in your (human & or canine) pack currently?

How old are they & do they like boxers too?

What dog sports or activities are you thinking of doing with your boxer?

How much time will you dedicate to training and socialising your new companion?

Have you considered crate training?
Of course, our whole pack - humans & dogs alike - are happiest when we meet you before you meet the pups.
So please - plan your visit to "Talk boxer"!

No need to stress if you happen to live interstate, though! Just plan a long phone call instead! We ship pups within Australia, so even if you live in Port Headland or Port Sorrell, you could still be a perfect match for an Alcance Boxer!
---
You can take a peek at a previous summer litter from Alcance Corus "Juno" (Grandma to this current litter) & Ch Kesdar Riding High "Fletcher", having fun over the Christmas & New Year 2012 period - just follow these links. As a matter of fact, that little brindle girl, Kola, became a mum herself in October 2014. Her daughter Alcance Shasta is now part of our showteam!:
ALCANCE puppies at play - New Years Eve 2011
ALCANCE puppies - Playtime turns to Naptime 31 Dec 2011
Just don't be fooled by all that chaos! We're serious when it comes to ensuring that our boxer pups are healthy, happy, socialised & ready for the right family!
*All Alcance Boxers are purebred. We do not carry the "Natural Bobtail" gene in our lines.
*The purchase price for our white pups includes all above, plus a refund of $200.00 upon presentation of certificate of desexing when pup is 18 - 24 months of age
@ ALCANCE BOXERS.... always for the love of the breed!!!